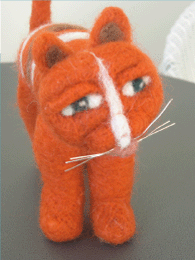 The following links are for websites of people whose work I think is amazing.
The Sweetest Pea Jen Bennett Gubicza makes amazing stuffed animals, iPod cozies and pillows.
Black Sheep Designs Sharon Costello is an incredbile artist and craftswoman. She makes gorgeous needle-felted wool creations, and she taught me most of what I know about needle-felted wool.